Beyond High School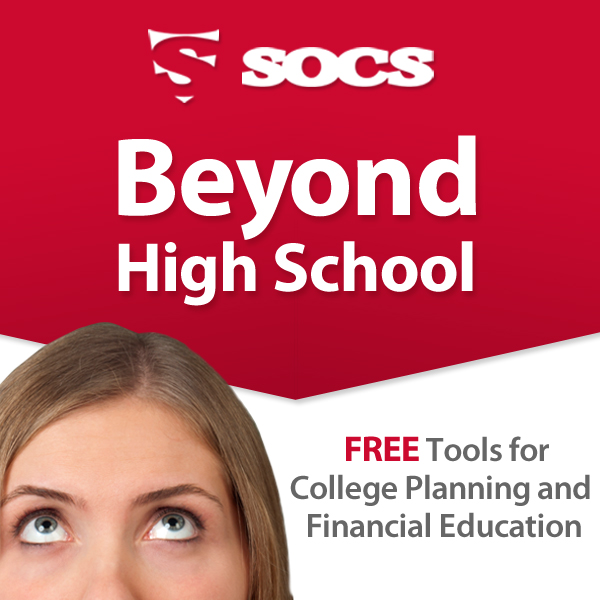 SOCS has teamed up with our affiliates, EducationQuest Foundation and Inceptia, to bring you these tools for college planning and financial education. These are great resources that can enhance your education and assist you in planning for a bright future.
College Planning
EducationQuest provides free online tools to help students and families:
Find the right college.

You'll find information about colleges across the nation plus an action plan for juniors and seniors to help get them there.

Figure out how to pay for college.

Online calculators help with student loans, budgets, college expenses, savings and repayment.

Complete the FAFSA

(Free Application for Federal Student Aid). This set of tools provides funding estimates, a tutorial, a document checklist and a video demonstration of the process.
For over 25 years, EducationQuest Foundation has provided a national model of college planning materials exclusively for the residents of Nebraska. As a special offering, these materials are now being made available through the Beyond High School program to SOCS users and their families.
Financial Planning
Provided by Inceptia and developed by curriculum and financial planning professionals, Financial Avenue helps students put into practice crucial principles of personal finances that will last a lifetime. This program was developed to incorporate the U.S. Treasury Department's five core competencies. Using videos, interactive activities, tools and resources, Financial Avenue offers courses and mini-modules in:
Budgeting

Credit

Borrowing, Saving and Investing

Debt Management

Identity Theft

Paying Taxes

And much more
As of August 2012, more than 7,000 Financial Avenue courses have been taken. A recent assessment of the participants showed a 40% average increase in knowledge gain from pre-test to post-test, 85% of students showed positive knowledge gain and 61% would recommend the course to others.
We are proud as a family of non-profit companies to provide these critical tools dedicated to aiding student and families prepare for a brighter future. Click here to visit the online portal.
To get started, please fill out the form here.